Description
When it comes to a heavy duty tank you are going to need coils. That is Vaping 101. Nothing is worse than when you are vaping and realize it is time to switch coils only to find out that you have just ran through your last one. What a bummer. Well Vape Juice is here to have you covered when it comes to packs of coils! Earlier this year the TFV12 Cloud Beast King Tank was released by Smoktech and now they have released one of the most badass coil packs known to man. The V12-T12 Coils by Smok are a duodenary coil build with an ohm reading of .12. They have a huge wattage range from 60 Watts all the way to 350 Watts. It is recommended that you use the V12-T12 coils between the range of 130 Watts to 200 Watts because the most flavor and clouds are produced between that range. They are made up of japanese cotton so your coils will not gunk up and burn out as quickly. Stop by the Vape Juice web page to check out our great deals on the V12-T12 coils! Get them while supplies last.
Duodenary Coil Structure
.12ohm Reading
60W-350W Range
Best 130W- 200W
Customer Reviews
Write a Review
Ask a Question
Longest lasting coils I've found.
these coils last the longest out of any I have used before. Worth the price.
GREAT PLACE TO BUY SMOK COILS
I have bought coils for my V12 here as well as juice several times and get best quality product and service. FAST SHIPPING TOO! ORDER IS ALWAYS RIGHT AS WELL! I LOVE THIS PLACE!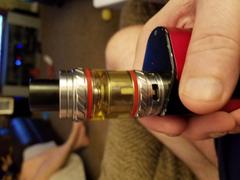 Payment & Security
Your payment information is processed securely. We do not store credit card details nor have access to your credit card information.