Roll over image to zoom in
Description
Overloaded  Vape Juice is the hottest new collection of custard themed e juices developed by the reputable and beloved Ruthless Vapors manufacturing company known for curating an extensive array of popular vape juice flavors including the Loaded line. Overloaded is an extension of the Loaded menu, containing a distinct set of creamy dessert treats in a smooth hitting vape juice formula. Banana Pudding Custard is one of the three Overloaded mixes and combines the creamy taste of freshly peeled bananas with a rich and thick pudding foundation.
From your first mouthwatering vape of Banana Pudding your taste buds will be overcome with a burst of ripe bananas and silky smooth pudding notes. While the solid puff of dispelled vapor leaves your mouth the soft scent of fresh bananas fills your nose while your taste buds are greeted by a firm banana custard flavor. While the last lingering bits of vapor left hanging in the air disappear your mouth features a residual banana aftertaste with a rich pudding aspect.
If you want to experience the joy and delight that comes with vaping a classic banana pudding blend then you can pick up your very own 120ml chubby gorilla squeeze style bottle of Banana Pudding Custard by Overloaded here at VapeJuice.com and choose your nicotine level of either 0mg, 3mg, or 6mg depending on your preferences.
Flavors: Banana, Pudding 
Bottle Size: 120ml 
Nicotine Level: 0mg, 3mg, 6mg 
VG/PG Ratio: 70%/30%
Customer Reviews
Write a Review
Ask a Question
08/08/2020
Chance T.
United States
Fast shipping
I ordered this from this website and then coils from a different website, the juice arrived way faster than the coils. I will buy from this site all the time now. You can trust them to have the fastest shipping out there. This juice is smooth and delicious. If you love Ruthless Loaded juices, then you will love this juice even more. I bought 3 so the juice will last a long time and their packaging was great. You should try this juice and buy from this distributor. Thank you for the super fast shipping and carrying such a great product!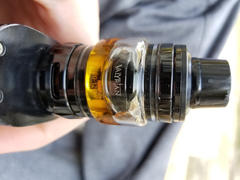 07/20/2020
Amilka C.
United States
07/08/2020
Debra R.
United States
Great taste
love th blend between the banana and the Custard flavor. It's a vape all day! Will be buying more when I run out
06/08/2020
Jose A.
United States
Best i ever tasted!!!
Wow! Love the flavor it actualy one of the best flavors truly recomended
06/07/2020
Ashley S.
United States
Delicious
It taste good. Just like banana s but not to overwhelming.