Are you ready to save money?
Adding $500 dollars worth of products to your cart just to see that the grand total is less than $300 bucks is the spirit of Black Friday and Cyber Monday!
Well that spirit is here at E Cigarette Empire and the Black Friday | Cyber Monday E Juice 2018 Blog will reveal all of the details you have been waiting for.
Anyone who is a loyal customer knows that Black Friday and Cyber Monday is the biggest sale of the year for E Cigarette Empire. All vape juice prices are the lowest of the year and you can save some serious money.
This year we wanted to go big…
Prior to the upcoming sale, we made sure that we had all of the lowest prices on the biggest e juice brands in the world. This way even with our Black Friday and Cyber Monday discount, we blow other prices out of the water.
But we added a special treat..
This year, E Cigarette Empire will have 10% off all premium e juice storewide from 11/22/18 at 12:00AM PST to 11:59PM PST on 11/26/18. To wrap it up in a nutshell, from Thanksgiving to Cyber Monday, all e juice will be 10% off but it doesn't stop there!
For the first time in E Cigarette Empire, we are doing Flash Events! Each Flash Event is 6 hours long and it focuses on a specific e juice brand. The Flash Event discounts can be found in the Black Friday E Juice category at the top of the page but we will also break the details down below.
From Black Friday to Cyber Monday will be Flash Events with 6 hour time windows. This means that there are 16 different Flash Events to look out for.
You can expect this to be a regular thing here at E Cigarette Empire with our revamped E Juice Deals page.
Here is the Full List: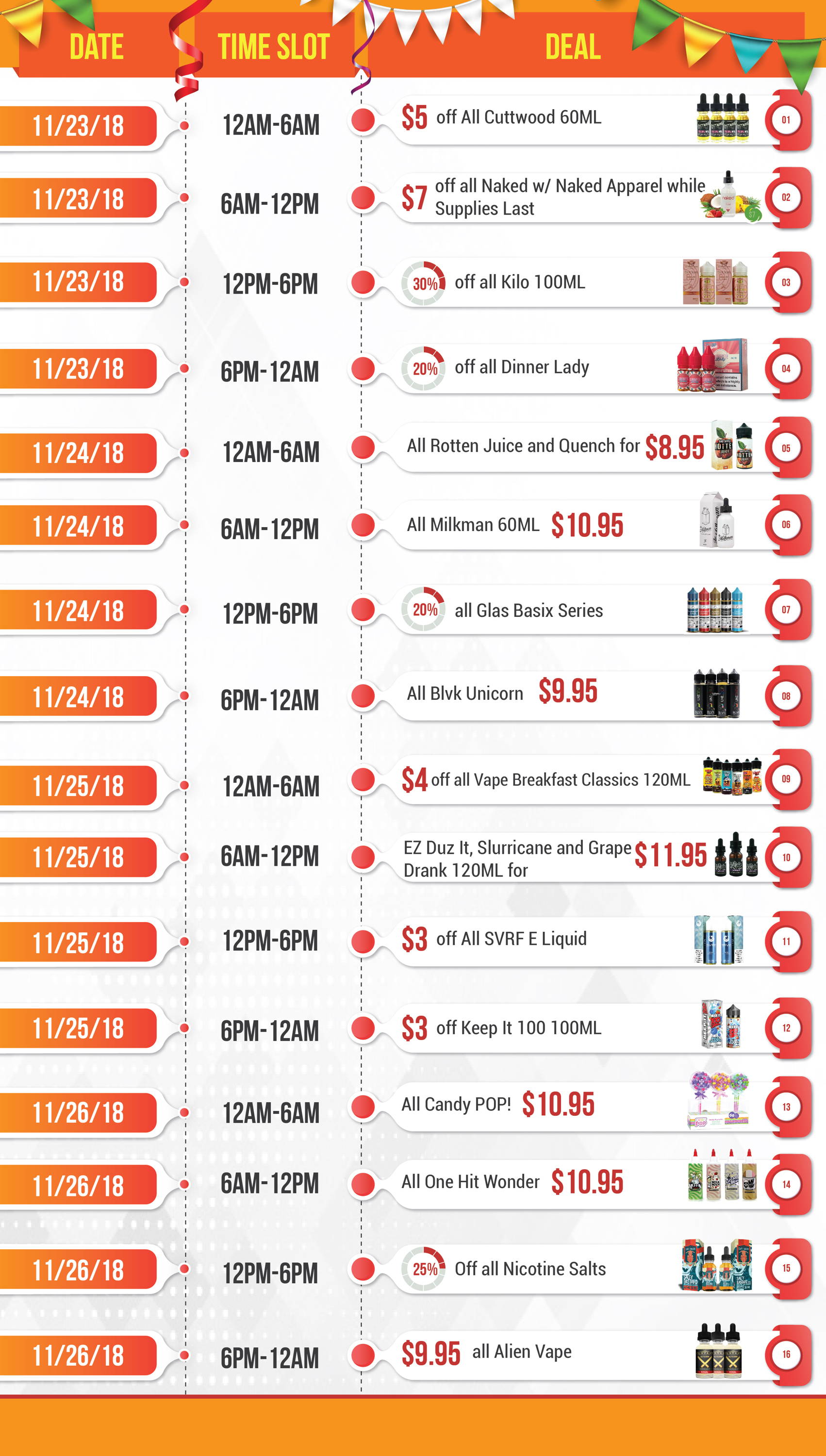 During these Flash Events you have the ability to grab premium vape juice flavors for prices that you have never seen before! Now what we would like to do is talk about some of these Flash Events and why we chose the e juice brands that we did!
---

This brings an end to both the Black Friday | Cyber Monday E Juice 2018 blog and Flash Event Sales. These doorbuster deals are only valid between the time frame listed above in the infographic but please do not forget from Thanksgiving, to the end of Cyber Monday, all E Juice is 10% off with the code blackfriday10! This code will not work with the Flash Event sales so you must choose one or the other!
Happy Thanksgiving and Happy Black Friday shopping my fellow vapers! We appreciate everyone of you and let us know how your Black Friday / Cyber Monday shopping goes. Please give us any feedback through our contact email!